High Density Filing Systems | Mobile Shelving | RFID Asset Tracking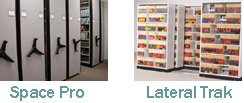 RC Office Concepts designs and implements high density Mobile Filing Cabinets. Our modern filing cabinets include lateral filing cabinets for hanging file folders, classification file folders, and expandable pocket file folders. Our lateral files save space and increase density when placed on our mobile filing cabinets. Our office filing systems include all types of filing cabinets, records management software and file folders; including hanging file folders.

Our records managements solutions are based on an evaluation of your present method of filing. We find out what type of filing cabinets and file folders you are presently using and the space they use. Our records management professionals will make recommendations that are beneficial to your company. RC Office filing systems will include file folders, records management software, hanging file folders. We frequently save as much as 50% of your valuable office space, and increase the productivity of your personnel.

Use our website to find information on filing systems including mobile shelving, lateral file cabinets, lateral shelf files, file folders, records management software, hanging file folders, color coding, mailroom furniture and all office filing systems.


GSA Pricing Available for Filing, Storage & Material Handling Systems





New York and New Jersey state contract pricing available


We also specialize in information management with custom file folders, digital imaging systems and file tracking software for records management.

We currently are giving special pricing on all High Density Shelving Systems, Label Printing Software and File Folders and Compact Shelving. All you have to do is ask us for special pricing and we will respond as soon as possible.

Member of Automated Solutions Association
RC Office Concepts, Inc.
699 Merrick Rd. 2nd floor · Lynbrook, NY. 11563
Phone:(516) 872-2222 · (845) 627-2525 · Fax: (516) 872-2002

Website Designed By A2Z Business Solutions Inc