Mobile Shelving | Compact Shelving Systems | Moveable Shelving Systems

GSA Pricing Available for Filing, Storage & Material Handling Systems
Mobile Shelving
This space saving filing system will provide the greatest record storage capacity per square foot. It can often double or even triple the file storage capacity of other filing systems.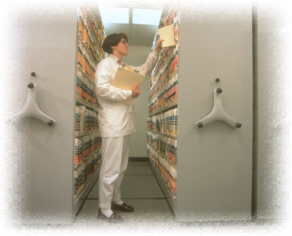 Mobile shelving, also known as compact shelving, will allow you to maximize your existing floor space. In most situations, you can double or even triple your storage capacity in the same footprint, even when compared to other "high-density" filing systems. On the other hand, you can also often store your existing records in less than half of the space used by your existing system.
This space-saving system is available in two different models, mechanical assist and electric powered. Both systems offer the same space-saving abilities. However, the electric system is also equipped with the most advanced safety system available today.

1
Request Additional Information Here!
Back To The Top

We also specialize in information management with custom file folders, digital imaging systems and file tracking software for records management.
We currently are giving special pricing on all High Density Shelving Systems, Label Printing Software and File Folders and Compact Shelving. All you have to do is ask us for special pricing and we will respond as soon as possible.
Member of Automated Solutions Association
RC Office Concepts, Inc.
699 Merrick Rd. 2nd floor · Lynbrook, NY. 11563
Phone:(516) 872-2222 · (845) 627-2525 · Fax: (516) 872-2002

Website Designed By A2Z Business Solutions Inc