Lateral Filing Cabinets

These lateral filing systems consists of stationary shelving in the back and file storage shelving which slides side to side in the front. This is an inexpensive way to increase the storage capacity of existing shelving or another record storage system.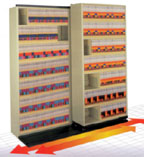 Click on image for larger view

When your filing storage needs are increasing but floor space is limited, install this mobile system with many possibilities. Side-to-side is a modular storage system comprised of two or three rows that move laterally on a heavy duty rail. Every time a unit is moved, another is exposed to allow access to documents, supplies or products.


Click on image for larger view


Request Additional Information Here!

GSA Pricing Available for Filing, Storage & Material Handling Systems





New York and New Jersey state contract pricing available


We also specialize in information management with custom file folders, digital imaging systems and file tracking software for records management.

We currently are giving special pricing on all High Density Shelving Systems, Label Printing Software and File Folders and Compact Shelving. All you have to do is ask us for special pricing and we will respond as soon as possible.

Member of Automated Solutions Association
RC Office Concepts, Inc.
699 Merrick Rd. 2nd floor · Lynbrook, NY. 11563
Phone:(516) 872-2222 · (845) 627-2525 · Fax: (516) 872-2002

Website Designed By A2Z Business Solutions Inc