Storage Shelving

You Can Count on RC Office Concepts
For over 30 years, we've earned a reputation for outstanding service and on-time delivery. RC's people are experts in filing and storage. They can make your filing and storage systems more efficient today and tomorrow.
You can count on the combination of RC Office Concepts people and products to create the perfect filing and storage solutions for your needs.
Filing & Storage Systems
Four-Post Shelving
Businesses today need to economically retain and protect their file collections. Doing so in limited space, with accessibility for day-to-day use, with attractive, easy-to-assemble, space efficient products requires specialized filing equipment.
Four-Post Shelving has been specifically designed for this purpose. Open shelf filing allows folders to be clearly visible and provide easy retrieval. Units utilize vertical space to maximize file storage per square foot, while keeping files within easy reach.
Case-Style Shelving
Open office areas need the benefit of open shelf filing, along with a high degree of aesthetics.
Case-Style Shelving, with full-height double wall construction, creates a bookcase-like appearance. There are no exposed holes, slots or unfinished edges, giving the unit smooth, clean lines.
The wide range of available colors enables Case-Style Shelving to blend into any office environment. The patented sliding divider adjusts easily to any shelf position, while holding files securely in place. Shelves are free of any slots that are normally needed for dividers.
Cantilever Shelving
Today, everyone is looking for better ways of doing business - solutions that reduce cost and raise productivity.
Record Master Cantilever Shelving has proven it costs less per filing inch than expensive filing cabinets. It creates three times more filing inches per square foot than conventional filing equipment, keeping files clearly visible and close at hand, greatly reducing retrieval time. Record Master Cantilever Shelving maximizes use of your filing space and improves filing efficiency at the same time.
Maximum Filing Inches - Uses space that other filing equipment can't use.

Modular Construction - Individual units, no starters or adders.

Maximum Visibility - No time consuming drawers to open and close.

Easy Access to Files - Flexibility for optimum filing of various sized documents.

Furniture Quality Finish - Looks great in any office, even after years of heavy use.
---
High Density Filing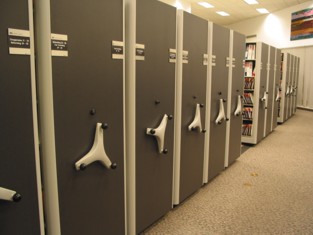 Systems
Make intelligent use of your storage space and improve filing efficiency. Moveable systems can effectively double record storage capacity in your existing area or reduce floor space requirements by 50%!
Our complete line includes Aisle-Saver electrical, mechanical assist or manual high-density storage systems and our economical Easy-Trak™ products. Lateral systems are also available.
Aisle-Saver® High Density Mobile Storage Systems
Aisle-Saver is shelving mounted on moveable carriages, which ride on a sturdy leveled rail system. With mobile shelving, an aisle can be opened up when and where it is needed. Carriages are moved electronically, manually or with mechanical assistance. The newly created aisle allows access to the stored products.
All Aisle-Saver systems are designed to enable the use of new or existing shelving and/or file cabinets. Combine with Record Master to maximize your filing and storage space.
Aisle-Saver® Lateral Storage Systems
High Density lateral storage systems are well suited for perimeter wall installations or for narrow situations where other forms of high density storage are inappropriate.
LATERAL Mobile Systems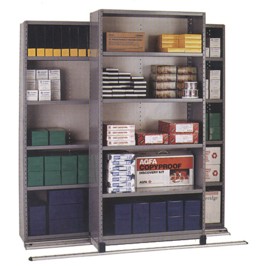 Easy-Trak is the economical alternative for mobile shelving systems. Easy-Trak systems save floor space and increases storage capacity. Easy-Trak can either be Lateral or Compacting systems.
The Lateral systems are available in two row (+) or three row (++) deep configurations. It is simply the best value in high-density filing and storage.
The Compacting systems convert aisles into valuable filing space by compacting rows of storage products into a single aisle configuration. With Easy-Trak's mechanical-assist carriages, heavy loads move easily. The handle has a built-in carriage parking lock mechanism for safety.
---
Backroom Storage
Heavy-Duty Shelving
Heavy-Duty Shelving is strong and durable, yet attractive for any office environment. Full-width shelf supports provide exceptional strength and double steel shoulder rivets attach securely into uprights for rigidity. For those situations when floor space is limited, Heavy-Duty Shelving is field-proven to be ideal for mobile or compact applications. Plus, it is easy to install. No need for nuts, bolts, clips or complicated sway braces. Simple assembly and great looks year after year.
---
Bulk Storage Units
Bulk storage units are ideally suited to virtually any type of hand-loaded material. It is designed for greater cube capacity than standard shelving, but lower price than pallet rack. Rivet-Span can be used for storing a broad range of bulky parts or hard-to-store items.
---
Shelf Units
Shelf units can be used as quick, low cost steel-wood shelving. Rivet-Span shelf units are ideal for double entry applications and can be accessed from all four sides.
---
Clip-Type Shelving and Utility Carts
Commercial grade Clip-Type Shelving has many problem solving applications that are both cost effective, yet extremely durable for office storage areas, supply closets, mail rooms, utility rooms and more. Virtually any medium load storage application can be accommodated.
Rugged and durable Utility Carts are an efficient and economical means of equipment and supply transfer. Ideal as a mail room or audio visual cart.
---
Archival File Storage
For Archival file storage, record holders maximize storage density and minimize storage expenses. The Record Holders system can be used in single-shelving installations, multi-level shelving or high rises, and in a variety of configurations.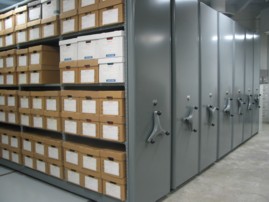 Shelves come in multiple sizes to store a wide array of archive boxes. The number of shelves and shelf spaces can be adapted to match your needs and objectives.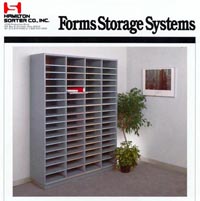 GSA Pricing Available for Filing, Storage & Material Handling Systems





New York and New Jersey state contract pricing available


We also specialize in information management with custom file folders, digital imaging systems and file tracking software for records management.

We currently are giving special pricing on all High Density Shelving Systems, Label Printing Software and File Folders and Compact Shelving. All you have to do is ask us for special pricing and we will respond as soon as possible.

Member of Automated Solutions Association
RC Office Concepts, Inc.
699 Merrick Rd. 2nd floor · Lynbrook, NY. 11563
Phone:(516) 872-2222 · (845) 627-2525 · Fax: (516) 872-2002

Website Designed By A2Z Business Solutions Inc